| Item ID | Starting Bid | Bids | Current Bid |
| --- | --- | --- | --- |
| 58380 | $20.00 | 6 | $50.00 |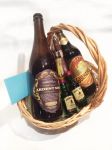 Those great guys at Jake's donated this delightful basket of goodies.
$25 Gift Card
1 Pint 9.4oz Bottle of Nebraska Brewing Company's extremely limited edition, Inception Series - Ardent Son. Belgian Golden Strong fermented with Ardennes yeast forms a fantastic base which is further enhanced by a 6 month maturation in Chardonnay barrels. The core of this beer is enjoyed in many forms. This interpretation furthers the crisp Belgian-like qualities fantastically.
1 Bottle of Cervejaria Colorado, Guanabara - Russian Imperial StoutNamed for the breathtaking Bay in front of Sugarloaf Mountain in Rio de Janeiro. Guanabara is Brazil's first Imperial Stout. Brewed with quality malt and hops, it also uses a special dark version of the native Black Rapadura cane sugar, made by boiling down sugar cane juice. The result is an explosion of flavors, layered and complex, with a lightened body for added drinkability.
Two beautiful Trademarked Jake's Cigars.
Two Mini Bottles of Jameson Irish Whiskey
Jake's Lighter
Now, that's a basket worth fightin' for!
http://jakescigars.com/